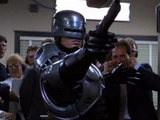 The upcoming Robocop remake has received an official release date.
Joel Kinnaman, star of the AMC drama The Killing, recently signed on to star in the titular role made famous by Peter Weller. Kinnaman had been rumoured to be in the running along with Russell Crowe and Michael Fassbender.
It has now been confirmed that the highly anticipated remake is scheduled for release on August 9, 2013.
The original Robocop revolved around a cyborg cop in a futuristic version of Detroit. Director José Padilha has stated that the remake will fill in gaps from the original story.