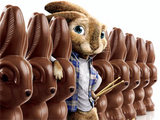 The Easter-themed family animation Hop has topped the US box office for the second weekend in a row.
Hop took an estimated $21.7 million this weekend, compared to the $12.6 million taken by Russell Brand's second new entry this month, a remake of the Dudley Moore 1981 comedy Arthur.
Joe Wright's action thriller Hanna, starring Saoirse Ronan and Eric Bana, took $12.3 million for its first weekend, followed by another new entry in Soul Surfer, with $11.1 million.
Rounding out the top five films is the low-budget horror film Insidious, which took $9.7 million.
This week's US box office top ten in full:
1. (1) Hop – $21,700,000
2. (-) Arthur – $12,600,000
3. (-) Hanna – $12,300,000
4. (-) Soul Surfer – $11,100,000
5. (3) Insidious – $9,740,000
6. (-) Your Highness – $9,500,000
7. (2) Source Code – $9,050,000
8. (5) Limitless – $5,690,000
9. (4) Diary Of A Wimpy Kid 2: Rodrick's Revenge – $4,885,000
10. (6) The Lincoln Lawyer – $4,600,000