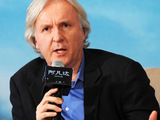 James Cameron has said that his two upcoming Avatar sequels could be released by Christmas 2014 and 2015.
Speaking to Entertainment Weekly, the director revealed his plans to shoot both movies at the same time.
"I am in the process of writing the next two Avatar films now," he said.
"We are planning to shoot them together and post them together, and we will probably release them not quite back-to-back, but about a year apart. Christmas '14 and '15 is the current plan."