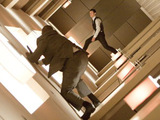 Inception has remained at the top of the US box office.
Leonardo DiCaprio's sci-fi-action film earned $43 million, beating Angelina Jolie's spy thriller Salt with $36 million.
Despicable Me lands in third place with $24 million, followed by The Sorcerer's Apprentice and Toy Story 3.
Debuting at number six is the family film Ramona And Beezus, starring Selena Gomez, with $8 million.
Finally, The Last Airbender claims the number nine position with $4 million and Predators takes the tenth spot with $2 million.
The US box office top ten in full:
1. (1) Inception -$43,505,000
2. (-) Salt – $36,500,000
3. (2) Despicable Me – $24,100,000
4. (3) The Sorcerer's Apprentice – $24,100,000
5. (5) Toy Story 3 – $9,030,000
6. (-) Ramona And Beezus – $8,000,000
7. (6) Grown Ups – $7,600,000
8. (4) The Twilight Saga: Eclipse – $7,033,000
9. (7) The Last Airbender – $4,173,000
10. (8) Predators -$2,850,000
This article can be discussed here: NTSC User's Message Board