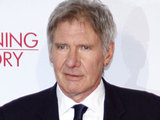 Harrison Ford has said that he would like Indiana Jones to die one day.
The actor also revealed that he wanted his iconic Star Wars character Han Solo to be killed off at the end of Return of the Jedi.
"I always want my characters to die," he told Entertainment Weekly. "I though Han Solo should have died at the end of the last Star Warsmovie, just because it seemed right for the character."
Ford also commented on rumours of a fifth instalment in the Indiana Jones series, following on from the 2008 film Indiana Jones and the Kingdom of the Crystal Skull.
"I'd be happy to make another Indiana Jones movie, but at this point it's all just rumours," he added.