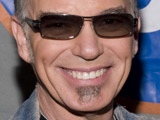 Billy Bob Thornton has announced that he is in talks to star in a sequel to Bad Santa.
The Eagle Eye actor played a criminal who poses as a mall Santa Claus in the 2003 comedy directed by Terry Zwigoff.
Speaking at a panel at the South by Southwest conference in Austin, Texas on Friday, Thornton revealed that he is currently in negotiations to reprise his role in the forthcoming Bad Santa 2.
The Weinstein Company announced that it was partnering with Miramax Films to develop a Bad Santa sequel last December. Thornton said in November that he was interested in returning for the follow-up.