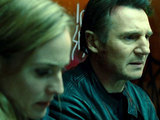 Liam Neeson's new action thriller Unknown has managed to top the US box office this weekend, opening with $21.8 million.
Entering just behind in second place is the much-hyped teen sci-fi adaptation I am Number Four, starring English actor Alex Pettyfer and Glee's Dianna Agron, which took $19.5 million for its opening weekend.
Holding its place in third for the second week in a row with a strong $19.4 million is the animated Shakespeare re-imagining Gnomeo & Juliet, followed by last week's box-office topper Just Go With It, which took $18.2 million.
Rounding out this weekend's top five films is another new entry in the form of Martin Lawrence's third Big Momma's House outing which took $17 million, despite a savaging from critics.
Next weekend sees the release of the Farrelly Brothers' latest comedy Hall Pass, as well as Nicolas Cage's new action film Drive Angry 3D.
This week's US box office top ten in full:
1. (-) Unknown- $21,800,000
2. (-) I Am Number Four – $19,500,000
3. (3) Gnomeo & Juliet – $19,400,000
4. (1) Just Go With It- $18,200,000
5. (-) Big Mommas: Like Father, Like Son – $17,000,000
6. (2) Justin Bieber: Never Say Never – $13,600,000
7. (6) The King's Speech – $6,560,000
8. (5) The Roommate – $4,100,000
9. (4) The Eagle – $3,560,000
10. (7) No Strings Attached – $3,120,000