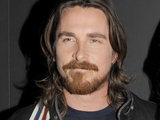 Christian Bale will lead the cast of Chinese director Zhang Yimou's latest film Nanjing Heroes, according to The Hollywood Reporter.
Zhang – who helmed the opening ceremony of the Beijing Olympics and made Hero and House Of Flying Daggers – will next turn his attention to a film about the 1937 Nanjing Massacre, in which Japanese troops killed thousands of Chinese citizens in the nation's capital.
Bale will play an American priest named John who helped many Chinese escape death.
"I met Christian in America and was impressed with his serious book research for the role," Zhang said.