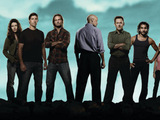 The season six Lost DVD could include an extended finale, reports have said.
An ABC source allegedly told TV Guide Magazine that the boxset will feature around 20 minutes of additional footage.
"It's in production now," the insider claimed.
"[Executive producers] Damon [Lindelof] and Carlton [Cuse] wanted to offer fans answers to additional questions they couldn't get to in the body of the final show."
The source did not confirm the length of the extra scenes.
The series finale of Lost airs on May 23 at 9pm on ABC in the US and on May 28 at 9pm on Sky1 in the UK.