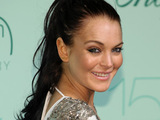 Lindsay Lohan has signed to star in upcoming 3D thriller Black Friday.
Japanese director Ryuhei Kitamura announced the project and Lohan's casting at the Cannes Film Festival in France, reports Bloody Disgusting.
The movie centres on a group of family and friends who avenge the brutal murder of a couple and come face-to-face with a killer named Tyler Hillburg.
Kitamura previously directed Versus and The Midnight Meat Train.