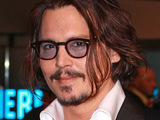 The upcoming fourth Pirates of the Caribbean movie will be shot in 3D, Walt Disney Pictures has announced.
Pirates of the Caribbean: On Stranger Tides will be filmed in Disney Digital 3D for a US release date of May 20, 2011.
The sequel is directed by Rob Marshall and produced by Jerry Bruckheimer, who also backed last year's 3D adventure film G-Force.
Johnny Depp and Geoffrey Rush have signed to reprise their roles in the film, which also stars Penelope Cruz, Ian McShane and San Claflin.