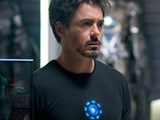 Iron Man 2 has remained at the top of the US box office.
The blockbuster earned $53 million this week, and has surpassed its $200 million budget after just two weeks on release.
Debuting this week are Robin Hood, starring Russell Crowe, at number two with a mere $37.1 million for the $200 million-budgeted epic, followed by Letters To Juliet in third with $13.7 million and Just Wright in fourth with $8.5 million.
How To Train Your Dragon drops to fifth place with $5.1 million after eight weeks in the top ten, while Furry Vengeance falls to number nine with $2.3 million and Clash Of The Titans drops to tenth place with $1.2 million.
The US box office top ten in full:
1. (1) Iron Man 2 – $53,000,000
2. (-) Robin Hood – $37,114,000
3. (-) Letters To Juliet – $13,750,000
4. (-) Just Wright – $8,500,000
5. (3) How To Train Your Dragon – $5,120,000
6. (2) A Nightmare On Elm Street – $4,700,000
7. (4) Date Night – $4,000,000
8. (5) The Back-Up Plan – $2,465,000
9. (6) Furry Vengeance – $2,300,000
10. (7) Clash Of The Titans – $1,255,000