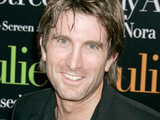 Sharlto Copley has revealed that a District 9 follow-up is two years away.
Copley, who played Wikus van der Merwe in the sci-fi film, told Empire that both he and director Neill Blomkamp are keen to revisit the property.
"Neill wants it and I want it. Neill's doing another film first. Then I think if everything goes according to plan we'll do the second film in about two years time," Copley commented.
The actor added that Blomkamp has not yet decided whether to make the next District film a sequel or prequel.
"That story can go in so many different ways. There's a whole universe," he noted. "I'm sure a lot of writers say that, but we actually have an entire universe. There's a million ways you can go. Neill's actually very interested in prequels as well; he's said that a few times. We wouldn't do the traditional Hollywood version of the sequel which would just be 100 aliens fighting humans."
Copley can next be seen as 'Howling Mad' Murdock in The A-Team, opening in the UK in July.