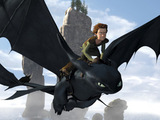 How To Train Your Dragon has remained at the top of the US box office with $15 million.
Debuting are Jennifer Lopez's rom-com The Back-Up Plan at number two with $12.2 million, action film The Losers at four with $9.6 million and documentary Oceans in eighth place with $6 million.
Meanwhile, last week's debuts Kick-Ass and Death At A Funeral slip to number five and seven respectively.
Finally, Miley Cyrus's The Last Song and Tim Burton's Alice In Wonderland claim the ninth and tenth positions.
The US box office top ten in full:
1. (1) How To Train Your Dragon – $15,025,000
2. (-) The Back-Up Plan – $12,250,000
3. (3) Date Night – $10,600,000
4. (-) The Losers – $9,605,000
5. (2) Kick-Ass – $9,500,000
6. (5) Clash Of The Titans – $9,000,000
7. (4) Death at a Funeral (2010) – $8,000,000
8. (-) Oceans – $6,000,000
9. (6) The Last Song – $3,700,000
10. (8) Alice In Wonderland (2010) – $2,200,000