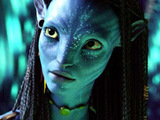 Avatar has set an all-time record for Blu-ray sales on its first day of release.
According to The Hollywood Reporter, Avatar has sold 1.5m copies in the US, outpacing sales of the former reigning top-seller The Dark Knight.
An early industry estimate set overall disc sales of the title comfortably above 4m units, putting it well on track to become the year's top-selling release to date.
Retailers sold out of 60% of their Blu-ray inventory on average, a Fox rep said. He declined to specify unit shipments.
Mass merchants moved roughly 50% of their "Avatar" DVDs, the spokesman added.
The release was intended to coincide with Earth Day, following the film's ecological theme.