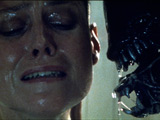 Ridley Scott has confirmed that his new Alien film will involve Space Jockey extraterrestrials.
The director, who also revealed that he has a fourth draft script for the prequel, told MTV that the action takes place decades before Sigourney Weaver's Ellen Ripley boards the Nostromo spacecraft.
He said: "It's set in 2085, about 30 years before Sigourney. It's fundamentally about going out to find out, 'Who the hell was that Space Jockey?' The guy who was sitting in the chair in the alien vehicle – there was a giant fellow sitting in a seat on what looked to be either a piece of technology or an astronomer's chair.
"Our man [Tom Skerritt's Captain Dallas] climbs up and says, 'There's been an explosion in his chest from the inside out – what was that?' I'm explaining who the space jockeys were."
Scott added that the colonial corporation Weyland-Yutani has yet to be formed and the sci-fi movie will deal with "terraforming – taking planets and planetoids and balls of earth and trying to terraform, seed them with the possibilities of future life".
When asked if Weaver will be involved in any capacity, Scott replied: "It will be before she was born! But the main character will be a woman.