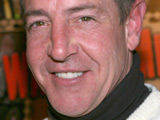 Rex Features
Michael Lohan reportedly stormed his daughter Lindsay's apartment earlier today accompanied by officers from the LA Country Sheriff's Department.
It is being reported that Michael intended to carry out a "welfare check" on his 16-year-old Ali, who is currently staying with her sister.
He later told TMZ that the two "were in a car driving back from Palm Springs at 115 miles an hour". It is thought that
Michael had Lindsay's vehicle followed by a photographer friend.
The Machete actress wrote on her Twitter afterwards: "OMG!!!!!!!!!!!!!!!!!!! I have no choice but to make this public, due to my sister's safety, as well as my own. 'my ex-dad' just WALKED INTO MY APT like the devil's advocate with officers (sic)."
Deputies apparently spoke with Ali at Lindsay's home. However, she was allowed to stay with her sibling following their unannounced visit.
Michael is now said to be seeking advice from the LA County Department of Children and Family Services.