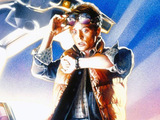 The Back To The Future trilogy will debut on Blu-ray on October 25, Universal Pictures International Entertainment has announced.
The movies, which see Michael J. Fox and Christopher Lloyd cross 130 years in a time-travelling DeLorean, will be newly restored for the worldwide release and include more than two hours of new bonus features.
The discs will feature a six-part retrospective documentary made up of new interviews with stars Fox, Lloyd, Lea Thompson and filmmakers Robert Zemeckis, Bob Gale, Neil Canton and Steven Spielberg.
Included are new feature commentary tracks from Gale and Canton, Q&A commentaries with Zemeckis and Gale, a Fox Q&A, 16 deleted scenes and a storyboard sequence showing the original scripted ending for the first movie, where Marty McFly climbs into a fridge at a nuclear test facility hoping that the explosion will send him back to 1985.
In addition, Universal's interactive U-Control feature will let viewers watch extras – such as trivia tracks, storyboard comparisons and a 'setups & payoffs' feature – without leaving the movie.
The Blu-ray release has been dubbed the 'Back To The Future 25th Anniversary Trilogy'.
Please discus this news item here: NTSC User's Message Board