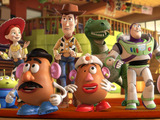 Toy Story 3
has remained at the top of the US box office for a second consecutive week with $59 million.
Debuting this week are Adam Sandler's comedy Grown Ups at number two with $41 million and the Tom Cruise action movie Knight & Day at number three with $20.5 million.
Falling to fourth place is The Karate Kid with $15.4 million, followed by The A-Team and Get Him To The Greek.
Finally, Killers slips to number nine with $2 million and Jonah Hex claims the tenth spot with $1.6 million.
The US box office top ten in full:
1. (1) Toy Story 3 – $59,000,000
2. (-) Grown Ups – $41,000,000
3. (-) Knight & Day – $20,500,000
4. (2) The Karate Kid – $15,400,000
5. (3) The A-Team – $6,000,000
6. (4) Get Him To The Greek – $3,010,000
7. (5) Shrek Forever After – $2,875,000
8. (6) Prince Of Persia: The Sands Of Time – $2,801,000
9. (8) Killers – $2,000,000
10. (7) Jonah Hex – $1,600,000