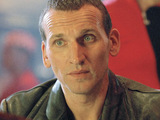 Christopher Eccleston has revealed that he left Doctor Who because he was unhappy with the working environment.
Eccleston joined the show when it was rebooted in 2005 but left after one series.
In an interview with the Radio Times, the actor explained that he "wasn't comfortable" on the programme and added: "I think it's more important to be your own man than be successful, so I left."
He continued: "I was open-minded but I decided after my experience on the first series that I didn't want to do any more. I didn't enjoy the environment and the culture that we, the cast and crew, had to work in. I thought if I stay in this job, I'm going to have to blind myself to certain things that I thought were wrong."
However, Eccleston explained that he is proud of his time on the show and claimed that "the most important thing" is that he was able to play The Doctor.
"I really feel that because it kind of broke the mould and it helped to reinvent it," he said. "I'm very proud of it."
Eccleston will appear as John Lennon in BBC Four drama Lennon Naked later this month.
Discuss this article here.