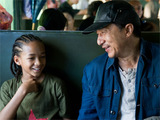 The Karate Kid has debuted at the top of the US box office over the weekend.
The action drama, starring Jaden Smith, grossed $56 million, beating fellow '80s remake The A-Team at number two with $26 million.
Shrek Forever After slips to third place with $15.8 million, followed by the comedy Get Him To The Greek and Killers, while sequels Sex And The City 2 and Iron Man 2 claim numbers eight and nine respectively.
Finally, the sci-fi horror Splice claims the tenth spot with $2.8 million.
The US box office top ten in full:
1. (-) The Karate Kid – $56,000,000
2. (-) The A-Team – $26,000,000
3. (1) Shrek Forever After – $15,800,000
4. (2) Get Him To The Greek – $10,100,000
5. (3) Killers – $8,170,000
6. (4) Prince Of Persia: The Sands Of Time – $6,600,000
7. (6) Marmaduke – $6,000,000
8. (5) Sex And The City 2 – $5,525,000
9. (7) Iron Man 2 – $4,550,000
10. (8) Splice – $2,860,000