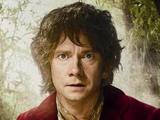 The Hobbit: The Desolation of Smaug has won the US box office for a third week.
The Peter Jackson-directed fantasy sequel fought off competition from Disney's Frozen, earning $29.9m.
Frozen finished in second place, making $28.8m in its sixth week of release. It now becomes Disney's most successful film domestically since The Lion King.
Meanwhile, Anchorman 2: The Legend Continues came third with takings of $20.2m.
Christian Bale's American Hustle remains at four in its second week of wide-release, while The Wolf of Wall Street is a new entry at five after taking $18.5m.
Other new entries in this week's top ten are The Secret Life of Walter Mitty at number seven, earning $13m, and 47 Ronin at nine, with takings of $9.9m.
The US weekend box office top ten in full:
1. (1) The Hobbit: The Desolation of Smaug – $29,850,000
2. (3) Frozen – $28,845,000
3. (2) Anchorman 2: The Legend Continues – $20,150,000
4. (4) American Hustle – $19,550,000
5. (-) The Wolf of Wall Street – $18,510,000
6. (5) Saving Mr. Banks – $14,021,000
7. (-) The Secret Life of Walter Mitty – $13,000,000
8. (6) The Hunger Games: Catching Fire – $10,200,000
9. (-) 47 Ronin – $9,869,000
10. (7) Tyler Perry's A Madea Christmas – $7,400,000