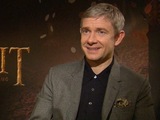 The Hobbit: The Desolation of Smaug has won the US box office for a second week.
The Peter Jackson-directed fantasy beat out the debut of Will Ferrell's Anchorman 2: The Legend Continues, earning $31.4m.
Anchorman 2 came in at second place, making $26.7m.
Christian Bale's American Hustle and Tom Hanks's Saving Mr Banks both leapt into the top five after opening into wide-release following small runs in New York and Los Angeles.
Meanwhile, animated feature Walking With Dinosaurs debuted in eight place with $7.3m, while Bollywood film Dhoom 3 made history by premiering at number nine with $3.3m.
The US weekend box office top ten in full:
1. (1) The Hobbit: The Desolation of Smaug – $31,455,000
2. (-) Anchorman 2: The Legend Continues – $26,776,000
3. (2) Frozen – $19,163,000
4. (15) American Hustle – $19,100,000
5. (18) Saving Mr. Banks – $9,321,000
6. (4) The Hunger Games: Catching Fire – $8,750,000
7. (3) Tyler Perry's A Madea Christmas – $8,510,000
8. (-) Walking with Dinosaurs – $7,300,000
9. (-) Dhoom 3 – $3,305,000
10. (5) Thor: The Dark World – $1,328,000