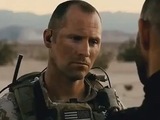 Act of Valor has topped the US box office with $24.7 million.
The action film, starring Roselyn Sanchez and real US Navy forces, made a strong debut at number one, easily beating out Tyler Perry's newest movie Good Deeds, which came in second with $16 million.
The Dwayne Johnson family adventure Journey 2: The Mysterious Island hangs on to the top five, beating last weekend's big winner Safe House and the romantic drama The Vow for the third spot.
Jennifer Aniston and Paul Rudd's comedy Wanderlust makes a weak debut at number eight with $6.6 million, while the psychological thriller Gone, starring Amanda Seyfried, comes in its first week at number nine, earning $5 million.
The US box office top ten in full (studio estimates):
1. (-) Act of Valor – $24,700,000
2. (-) Tyler Perry's Good Deeds – $16,00,000
3. (4) Journey 2: The Mysterious Island – $13,475,000
4. (1) Safe House – $11,400,000
5. (2) The Vow – $10,000,000
6. (3) Ghost Rider: Spirit of Vengeance – $8,800,000
7. (5) This Means War – $8,500,000
8. (-) Wanderlust – $6,600,000
9. (-) Gone – $5,000,000
10. (9) The Secret World of Arrietty – $4,503,000