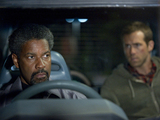 Safe House has topped the US box office with $24 million.
The action film, starring Ryan Reynolds and Denzel Washington, climbs from last week's second place spot, beating out new releases Ghost Rider: Spirit of Vengeance and This Means War.
The Vow, last week's box office champion, falls to second place with $23.6 million. The romantic drama, which stars Channing Tatum and Rachel McAdams, has so far grossed over $85 million in the US.
The latest Hayao Miyazaki animated feature The Secret World of Arrietty debuts at number nine with $6.4 million, while Liam Neeson's The Grey holds on to the top ten with $3.03 million.
The US box office top ten in full (studio estimates):
1. (2) Safe House – $24,000,000
2. (1) The Vow – $23,600,000
3. (-) Ghost Rider: Spirit of Vengeance – $22,000,000
4. (3) Journey 2: The Mysterious Island – $20,085,000
5. (-) This Means War – $17,550,000
6. (4) Star Wars: Episode I – The Phantom Menace – $7,865,000
7. (5) Chronicle – $7,500,000
8. (6) The Woman in Black – $6,645,000
9. (-) The Secret World of Arrietty – $6,400,000
10. (7) The Grey – $3,032,000