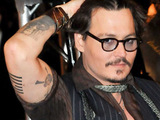 Johnny Depp's Lone Ranger remake has begun filming in New Mexico.
The update of the Western classic has a budget of $215 million, and stars Depp as Tonto and Armie Hammer as the Lone Ranger. The movie will differ from the original material by making Hammer's character the sidekick and Depp's the lead.
Depp told Entertainment Weekly: "I remember watching it as a kid, with Jay Silverheels and Clayton Moore… I liked Tonto, even at that tender age, and knew Tonto was getting the unpleasant end of the stick here. That's stuck with me."
The 48-year-old actor said that he would like to "reinvent the relationship" between Tonto and The Lone Ranger, which played on Native American stereotypes in the original '70s television show.
The movie, which was announced in the summer of last year, has faced a number of setbacks in casting and budgeting. It is being produced by Jerry Bruckheimer and directed by Gore Verbinski.
Helena Bonham Carter, Tom Wilkinson, William Fichtner and Barry Pepper also star in the film.
Depp's recent Western adventure, the computer animated Rango, won an Oscar for 'Best Animated Feature' at the Academy Awards on Sunday (February 26).