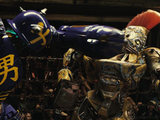 Shawn Levy's sci-fi action film Real Steel has topped the US box office for the second weekend in a row.
The Hugh Jackman-fronted movie took $16.3 million in its second week of release, just edging out the remake of '80s dance film Footloose, which took $16.1 million.
Matthjis van Hejiningen's remake of John Carpenter's The Thing opened to $8.7 million, followed by The Ides of March with $7.5 million.
Rounding out the top five films of the weekend is family-friendly feature Dolphin Tale, which took $6.3 million.
This week's US box office top ten in full (studio estimates):
1. (1) Real Steel – $16.3 million
2. (-) Footloose – $16.1 million
3. (-) The Thing – $8.7 million
4. (2) The Ides of March- $7.5 million
5. (3) Dolphin Tale – $6.3 million
6. (8) Moneyball – $5.5 million
7. (4) 50/50 – $4.3 million
8. (5) Courageous- $3.4 million
9. (-) The Big Year – $3.3 million
10. (6) The Lion King 3D – $2.7 million