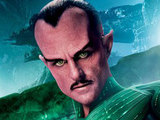 DC Comics chief creative officer Geoff Johns has said that he is hopeful for a sequel to this year's Green Lantern.
The film, which starred Ryan Reynolds and Mark Strong, was a relative box office disappointment, having taken a worldwide total of $219.9m on a budget of $200m. As a result of the film's performance, Warner Bros has yet to announce whether it will move ahead with a sequel.
"There is the hope that we will eventually see one," Johns told The Hollywood Reporter. "Obviously you want it to be as big as Titanic.
"I hope that the character gets another film, and it will be live-action again, I guarantee."
Johns also noted that Green Lantern had "a lot of really good stuff" in it, and predicted big things for the Green Lantern franchise moving forward.
Green Lantern was released this weekend on Blu-ray and DVD.