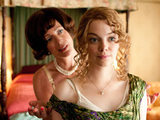 Disney's The Help managed to climb one spot to top the US box office this weekend.
The Emma Stone-led comedy-drama took $20.4m for its second weekend of release, helping it best the $16.3m taken by former box-office topper Rise of the Planet of the Apes.
Robert Rodriguez's family action sequel Spy Kids: All The Time in the World opened in third place with $12m, followed by action epic Conan the Barbarian which opened to only $10m.
The final new release of the weekend, horror remake Fright Night, rounds out the top five with $8.3m.
This week's US box office top ten in full (studio estimates):
1. (2) The Help – $20,479,000
2. (1) Rise of the Planet of the Apes – $16,300,000
3. (-) Spy Kids: All the Time in the World – $12,020,000
4. (-) Conan the Barbarian – $10,000,000
5. (-) Fright Night – $8,300,000
6. (4) The Smurfs – $8,000,000
7. (3) Final Destination 5 – $7,705,000
8. (5) 30 Minutes or Less – $6,300,000
9. (6) One Day – $5,127,567
10. (8) Crazy, Stupid, Love – $4,950,000