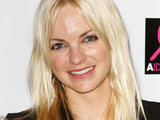 Scary Movie 5 has hired writers and is hoping to bring back previous cast members in the comedy horror series.
Anthony Anderson (Scary Movie 3, Scary Movie 4), Regina Hall (Scary Movie 1-4) and Kevin Hart (Scary Movie 3, Scary Movie 4) have all been asked to return, according to Bloody Disgusting.
It is unknown whether Anna Faris – who recently won the female lead role in Sacha Baron Cohen's The Dictator – plans to make an appearance in the spoof sequel, which had originally been planned as a reboot.
The Comebacks writers John Aboud, Michael Colton and Stephen Leff have been hired to write the script.
Their 2007 film starring David Koechner and Carl Weathers spoofed inspirational sport films.
Scary Movie 5 is expected to release on April 20, 2012.