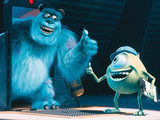 Pixar director Dan Scanlon has teased what fans can expect from the company's upcoming film Monsters University.
Serving as a prequel to the 2001 film Monsters Inc., Monsters University will follow best friends Mike Wazowski and James P. Sullivan as they go through a troubled adolescence.
"They look familiar but, like all of us, they're a little thinner and a little shaggier," Scanlon told Coming Soon, at this weekend's D23 Expo. "It was super fun making them look young but still familiar. That was sort of the big design challenge."
Scanlon also promised that because of advances in technology over the past decade, the new film will feature even more exciting monsters than the original.
"We're definitely going to see a lot of monsters this time. A lot of designs, " he confirmed. "We're at a larger university and it's packed with monsters. Hopefully we'll see a little bit more of the world."
John Goodman and Billy Crystal will once again voice the two lead characters, alongside the returning Steve Buscemi and newcomers Dave Foley, Julia Sweeney, Joel Murray and Peter Sohn.
Monsters University is due out in cinemas on June 21, 2013.