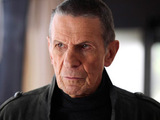 Leonard Nimoy has been confirmed for the cast of Transformers: Dark of the Moon.
The Fringe actor, who previously voiced Decepticon Galvatron in 1986's animated The Transformers: The Movie, will once again lend his vocals to the franchise in the upcoming Michael Bay production.
Entertainment Weekly reports that Nimoy will portray Sentinel Prime, the predecessor to Autobot leader Optimus Prime, who is discovered on the moon by Apollo 11 astronauts and takes the form of a fire engine after being transported to earth.
Speaking of his decision to approach Nimoy, Bay said: "I was too scared to ask him. Plus, he's married to Susan Bay, who's a cousin of mine. So I had to be careful. I've met him at family functions. But he told me, 'I would be honoured. I'm glad to be back!'"
Bay has insisted that the robots of Dark of the Moon will have "more character" than the previous instalment, having previously said that he was unhappy with Transformers: Revenge of the Fallen.
Shia LaBeouf will reprise his role of Sam Witwicky in the upcoming film, while Rosie Huntington-Whiteley replaces Megan Fox as the lead female.