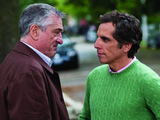 Little Fockers has narrowly beaten True Grit to top the US box office this weekend.
Little Fockers underperformed greatly, taking in only $34 million over the weekend, bringing its five-day total to $48 million. According to Entertainment Weekly, it is unlikely that the third film in the Meet the Parents series will come close to matching the $279.3 million total of 2004's Meet the Fockers.
Meanwhile, True Grit, which stars Jeff Bridges and Matt Damon, took in double the studio's original estimate, earning $25.6 million and claiming second place at the US box office. Bridges's other movie Tron: Legacy fell from first to third place, bringing its total to $88.4 million.
Finally, The Chronicles of Narnia: The Voyage of the Dawn Treader took fourth place, earning $10.8 million, while Yogi Bear fell from second to fifth place, grossing $8.8 million over the weekend, bringing its total to $36.8 million.
The weekend's other new release, Jack Black's Gulliver's Travels, took in only $7.2 million, opening in seventh place.
The US box office top ten in full:
1. (-) Little Fockers – $34,000,000
2. (-) True Grit – $25,600,000
3. (1) Tron: Legacy – $20,107,000
4. (3) The Chronicles Of Narnia: Voyage Of The Dawn Treader – $10,800,000
5. (2) Yogi Bear – $8,800,000
6. (4) The Fighter – $8,500,000
7. (-) Gulliver's Travels – $7,200,000
8. (7) Black Swan – $6,600,000
9. (6) Tangled – $6,519,000
10. (5) The Tourist – $5,700,000