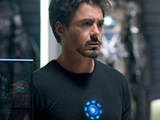 Marvel's forthcoming Avengers movie will reportedly shoot in New Mexico.
According to Marvel Studios, production on the superhero movie will begin between April and September of 2011.
In a statement, New Mexico Governor Bill Richardson called the upcoming Avengers shoot "our biggest production to date" and said that the film would be "the most technologically advanced" ever produced in the state.
He added: "I'm announcing this as a Christmas present of sorts to the people of New Mexico. This is a perfect example of the incredible job creation, economic impact and global visibility this industry has brought our state over the past eight years, and of the need to keep it moving forward."
Joss Whedon is directing The Avengers, which will star Robert Downey Jr, Chris Hemsworth, Chris Evans, Scarlett Johansson, Mark Ruffalo, Jeremy Renner and Samuel L. Jackson.
Additional scenes for the movie will be shot in Michigan and New York.