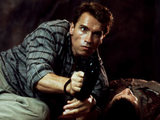 The Total Recall remake will begin shooting in March of next year.
Total Recall was a 1990 film starring Arnold Schwarzenegger as a freedom fighter from Mars who is relocated to Earth.
According to Cinema Blend, the remake will be directed by Len Wiseman, who directed Underworld and Underworld: Evolution. No-one has been cast in the Schwarzenegger role, though it has reportedly been offered to Colin Farrell.
The film will shoot in Toronto on a $200 million (£129.8m) budget. The original Total Recall grossed about $119 million (£77.3m) on a $50 million (£32.5m) budget.
Total Recall is expected to open in theatres in 2012.