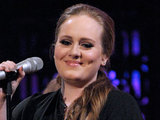 Adele has regained pole position on the UK singles chart with 'Someone Like You'.
The 21 star scored a fifth week at number one after knocking previous chart-topper Nicole Scherzinger and her track 'Don't Hold Your Breath' down to two.
Third place this week belongs to 'Just Can't Get Enough' by The Black Eyed Peas, which gains a hefty 12 spots from last Sunday, while The Wanted's 'Gold Forever' and Jessie J's 'Price Tag' complete the top five.
Adele's debut release 'Rolling In The Deep' also continues to hang within the single digits at nine, as Lady GaGa rounds out a largely unchanged top ten with 'Born This Way', down three from last week's seven.
The top ten in full:
1. (2) Adele: 'Someone Like You' (live at the Brit Awards)
2. (1) Nicole Scherzinger: 'Don't Hold Your Breath'
3. (15) The Black Eyed Peas: 'Just Can't Get Enough'
4. (3) The Wanted: 'Gold Forever'
5. (4) Jessie J ft. B.o.B: 'Price Tag'
6. (5) Rihanna: 'S&M'
7. (6) Wiz Khalifa: 'Black And Yellow'
8. (9) Dr Dre ft. Eminem and Skylar Grey: 'I Need A Doctor'
9. (8) Adele: 'Rolling In The Deep'
10. (7) Lady GaGa: 'Born This Way'
Source: Official Charts Company
Outside the top sellers, Peter Kay's Britain's Got The Pop Factor… alter-ego Geraldine McQueen and Susan Boyle win the second highest new entry of the week with their Comic Relief duet 'I Know Him So Well', while Snoop Dogg nestles in behind them at 12 with 'Sweat', which is up four from 16.
Also making progress this week are Noah And The Whale with 'L.I.F.E.G.O.E.S.O.N.', at 14 from its previous position of 20, and the 50 Cent remix of LA rapper Mann's track 'Buzzin', which breaks into the top half of the chart after climbing nine places to 15.
Kanye West and Rihanna collaboration 'All Of The Lights' also sneaks its way into the top 20 by climbing 13 places to 19 in its tenth week of release, while the Glee cast score the second biggest hit of the show's second season with their 'Thriller/Heads Will Roll' mash-up at 23.