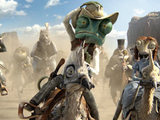 Johnny Depp's Rango has reclaimed the UK box office top spot from Battle: Los Angeles.
The Gore Verbinski-directed animated Western pulls in just over £1 million in its third weekend on release to leapfrog above the action movie and secure the top spot.
Liam Neeson thriller Unknown holds its place at number three, while new releases Chalet Girl and The Lincoln Lawyer round out the top five.
Comedy Anuvahood is the only other debuting movie to chart in the top ten, landing at number seven with just over £500,000.
Elsewhere, The Adjustment Bureau falls four spots to number eight and The King's Speech earns £350,000 to chart at nine. The royal drama has grossed more than £44 million in the UK since its cinema bow in January.
The UK box office top ten in full:
1. (2) Rango – £1,045,327
2. (1) Battle: Los Angeles – £874,265
3. (3) Unknown – £775,576
4. (-) Chalet Girl – £677,716
5. (-) The Lincoln Lawyer – £571,836
6. (5) Hall Pass – £556,292
7. (-) Anuvahood – £536,818
8. (4) The Adjustment Bureau – £532,325
9. (6) The King's Speech – £350,417
10. (8) Gnomeo & Juliet – £295,023