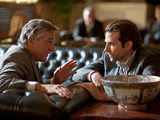 Bradley Cooper's new movie Limitless has topped the UK box office on its debut weekend on release.
The thriller, also starring Robert De Niro and Abbie Cornish, opens with more than £2 million in ticket sales to cruise past animation A Turtle's Tale and Channing Tatum's The Eagle and secure first place.
Last week's number one Rango falls to number four, while Liam Neeson's Unknown rounds out the top five.
Adam Deacon's comedy Anuvahood is the only release to holds its position as it charts at number seven for the second consecutive week.
Elsewhere, Battle: Los Angeles, Chalet Girl, The Lincoln Lawyer and Hall Pass each tumble down the chart four places in the top ten.
The UK box office top ten in full:
1. (-) Limitless – £2,087,363
2. (-) A Turtle's Tale: Sammy's Adventure – £1,122,067
3. (-) The Eagle – £1,038,954
4. (1) Rango – £670,992
5. (3) Unknown – £477,531
6. (2) Battle: Los Angeles – £425,952
7. (7) Anuvahood – £392,212
8. (4) Chalet Girl – £339,947
9. (5) The Lincoln Lawyer – £324,146
10. (6) Hall Pass – £304,571