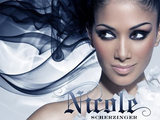 Nicole Scherzinger has notched up her first solo UK singles chart number one with 'Don't Hold Your Breath', which ends Adele's four-week stay at pole position.
The X Factor guest judge, who last appeared on the rankings in December with top three hit 'Poison', became the first artist to outsell 'Someone Like You' since its release last month.
Scherzinger has topped the UK singles chart twice before as part of the Pussycat Dolls, who reached number one with their first two singles 'Don't Ya' and 'Stickwitu' in 2005. The girl group went on to have eight more top 20 hits in the UK before Scherzinger's departure last year.
Follwing Scherzinger and Adele are The Wanted, who score their third top five hit with Comic Relief single 'Gold Forever' at three, while Jessie J's 'Price Tag' and Rihanna's 'S&M' are bumped down two apiece to round out the top five.
The last single digit spot is snapped up by Dr Dre, Eminem and Skylar Grey, who take 'I Need A Doctor' to a new peak of nine in its seventh week of release, while up-and-coming girlband Parade make a respectable debut with 'Louder' at 10.
The top ten in full:
1. (-) Nicole Scherzinger: 'Don't Hold Your Breath'
2. (1) Adele: 'Someone Like You' (live at the Brit Awards)
3. (-) The Wanted: 'Gold Forever'
4. (2) Jessie J ft. B.o.B: 'Price Tag'
5. (3) Rihanna: 'S&M'
6. (5) Wiz Khalifa: 'Black And Yellow'
7. (4) Lady GaGa: 'Born This Way'
8. (9) Adele: 'Rolling In The Deep'
9. (11) Dr Dre ft. Eminem and Skylar Grey: 'I Need A Doctor'
10. (-) Parade: 'Louder'
Source: Official Charts Company
Dropping five places each to 11 and 12 are Chris Brown's 'Yeah 3x' and Alexis Jordan's 'Good Girl', but the biggest tumble in the top 20 belongs to Chipmunk and Chris Brown, who are down from eight to 14 with 'Champion'.
Meanwhile, The Black Eyed Peas ascend 12 positions to 15 with 'Just Can't Get Enough'. The song's video was shot in Japan a week before the country's earthquake and tsunami, and has been dedicated by the band to victims of the twin disasters.
The final new entry of this week's top 20 belongs to Snoop Dogg and 'Sweat' at 16, while George Michael's comeback release 'True Faith' fails to crack the upper half of the chart, settling instead for 27.