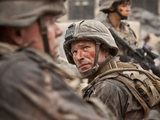 Battle: Los Angeles has debuted in first place at the UK box office.
The Aaron Eckhart-led sci-fi blockbuster pulls in £1.7 million to narrowly edge past Johnny Depp's Rango and secure the chart top spot.
Thriller Unknown holds its position at number three, while The Adjustment Bureau falls to number four. New release Hall Pass, the latest comedy from the Farrelly brothers, completes the top five.
Elsewhere political thriller Fair Game is the only other new release to chart in the top ten, landing at number nine.
The UK box office top ten in full:
1. (-) Battle: Los Angeles – £1,792,913
2. (1) Rango – £1,539,809
3. (3) Unknown – £1,038,522
4. (2) The Adjustment Bureau – £911,863
5. (-) Hall Pass – £900,936
6. (5) The King's Speech – £689,809
7. (4) Paul – £559,856
8. (6) Gnomeo & Juliet – £553,485
9. (-) Fair Game – £304,297
10. (9) West Is West – £248,432