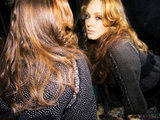 Adele has retained pole position on the UK singles chart for a fourth week with 'Someone Like You'.
The Brit School favourite held firm at the peak of an unchanged top four also containing Jessie J, Rihanna and Lady GaGa, while Wiz Khalifa rounds out the top five with his debut track 'Black And Yellow'.
However, 'Rolling In The Deep', the lead track from the London-born singer's album 21, drops out of the top five for the first time, after slipping four places to nine.
Just beyond are two climbers in the shape of 'I Need A Doctor' by Dre Dre, Eminem and Skylar Grey, which rises four places to a peak of 11, and Tinie Tempah's 'Wonderman', also progressing four at 12.
Gathering pace too is Avril Lavigne's 'What The Hell', which is up nine places to 16 in its eighth week of release, while the title of biggest climber this Sunday goes to Noah And The Whale and 'L.I.F.E.G.O.E.S.O.N.', at 19 from its previous finish of 31.
Right behind, and just missing out on a spot in the upper half of the chart, are the week's second and third highest new entries, 'Heart On My Sleeve' by Olly Murs and 'Till The World Ends' by Britney Spears, which settle in at 21 and 22 respectively.
The top ten in full:
1. (1) Adele: 'Someone Like You' (Live at the Brit Awards)
2. (2) Jessie J ft. B.o.B: 'Price Tag'
3. (3) Rihanna: 'S&M'
4. (4) Lady GaGa: 'Born This Way'
5. (-) Wiz Khalifa: 'Black And Yellow'
6. (8) Chris Brown: 'Yeah 3x'
7. (7) Alexis Jordan: 'Good Girl'
8. (6) Chipmunk ft. Chris Brown: 'Champion'
9. (5) Adele: 'Rolling In The Deep'
10. (9) Bruno Mars: 'Grenade'
Source: Official Charts Company