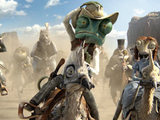 Rango has held off competition from The Adjustment Bureau and Unknown to top the UK box office.
Johnny Depp's animated Western pulls in £1.6 million to lead the chart on its debut weekend on release. The total narrowly edges the film past Matt Damon's Bureau and Liam Neeson's Unknown to secure the number one spot.
Last week's runner-up Paul slips down to four, while The King's Speech rises to five on the back of its recent Academy Awards success.
3D animation Gnomeo & Juliet dips sharply to six , while True Grit and West Is West climb to fill numbers eight and nine respectively.
Elsewhere, new releases Ironclad and The Tempest both miss out on top ten places.
The UK box office top ten in full:
1. (-) Rango – £1,638,613
2. (-) The Adjustment Bureau – £1,395,715
3. (-) Unknown – £1,356,345
4. (2) Paul – £1,109,766
5. (6) The King's Speech – £1,076,381
6. (1) Gnomeo & Juliet – £842,278
7. (3) I Am Number Four – £498,822
8. (9) True Grit – £463,320
9. (10) West Is West – £452,076
10. (4) Yogi Bear – £435,564