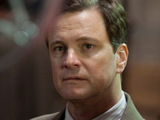 Colin Firth's The King's Speech has topped the UK box office for the third consecutive weekend.
Despite four new movies opening on Friday, the royal drama took in £4.2 million – just £200,000 down from last weekend's total – to emerge as the UK's number one film. King's Speech has now made an impressive £18 million after only three weeks in theatres.
Natalie Portman's ballet thriller Black Swan bows at number two, while Seth Rogen's 3D superhero adventure The Green Hornet is in third place with £1.1 million.
Vince Vaughn comedy-drama The Dilemma completes the top five, faring better than Harrison Ford comedy Morning Glory (number eight).
Elsewhere, Peter Mullan's violent coming-of-age drama NEDS opens in tenth spot.

The UK box office top ten in full:
1. (1) The King's Speech – £4,226,074
2. (-) Black Swan – £2,762,429
3. (2) The Green Hornet – £1,187,652
4. (-) The Dilemma – £1,102,798
5. (4) Gulliver's Travels – £992,382
6. (3) 127 Hours – £805,418
7. (5) Little Fockers – £685,046
8. (-) Morning Glory – £524,356
9. (8) Harry Potter And The Deathly Hallows: Part 1 – £346,787
10. (-) NEDS – £283,210