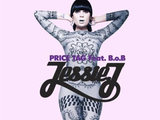 Jessie J's new music video will be "larger than life", according to its director.
The singer shot the promo for her new single 'Price Tag' last week, which has been described by director Emil Nava as a "hyper-real" world with a "fashion edge".
In a behind-the-scenes video of the shoot, Nava said: "Basically I came up with the idea of thinking about things that are larger than life, but things that don't matter.
"We've got a big teddy and a big chair and the money tree. It's sort of a hyper-real toy world that Jessie's bringing a fashion edge to."
The clip is scheduled to premiere the same day as the song's UK release, on January 30.
The track will also serve as her first US single, after it became one of the most added songs on American mainstream radio this week.