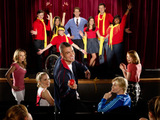 The cast of Glee have become the fastest ever act to score 20 top 40 singles in the UK.
The stars of the Fox musical comedy first entered the chart 57 weeks ago with their January 2010 cover of Journey's 'Don't Stop Believing', and today notched up their 20th hit with 'Toxic', which scraped in at 40 following the UK premiere of a Britney Spears tribute episode last Monday.
The previous record holder, legendary rock and roll star Elvis Presley, took 88 weeks to achieve the same feat back in the 1950s.
Martin Talbot of the Official Charts Company said: "This is a quite amazing achievement by the Glee cast, to be in the same company as the likes of Elvis Presley – in fact, beating his 50-year-old record!
"The success underlines just how popular this TV show has become – as well as emphasising how digital downloading has transformed the consumer's engagement with music. The Glee cast are superstars of the digital music age."
The Glee favourites' tally includes three top ten hits – 'Don't Stop Believing', a 'Halo/Walking On Sunshine' mash-up and Bonnie Tyler classic 'Total Eclipse Of The Heart' – as well as three further top 20 smashes.
This week, they also notched up their 51st top 75 record with Lea Michele's take on 'The Only Exception'. The previous fastest act to place 50 singles within the top 75 were The Shadows, who took 392 weeks to match the Glee cast's number.
Over two million Glee singles have been sold in the UK, while the number stands at 13 million worldwide. They have shifted more than five million albums across the globe.