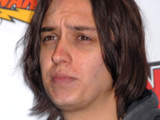 The Strokes have revealed the title of their first single in almost five years.
'Under Cover Of Darkness' will precede the band's upcoming fourth album Angles when it is released in a few weeks' time.
According to Clash, Angles will be a "back to basics journey" for the band, whose last album First Impressions Of Earth in 2006 received a mixed critical reception.
"It's what the record sounds like," guitarist Albert Hammond Jr told Rolling Stone, regarding their choice of album title. "It comes from five different people."
Angles will be released on March 21, with 'Under Cover Of Darkness' expected to arrive next month.