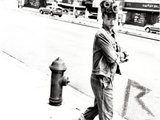 Rihanna has continued her reign atop the UK singles chart with her Calvin Harris team-up 'We Found Love'.
The Bajan singer scored a second Sunday at number one after posting a week-on-week sales increase of 20% to break the 100,000 barrier.
Maroon 5 and Christina Aguilera are relegated to the runner-up spot for a seventh consecutive week, while the band's frontman Adam Levine also makes an appearance one place behind on today's highest new entry 'Stereo Hearts' by Gym Class Heroes.
Christina Perri's 'Jar Of Hearts' rises to four from last week's 12 following X Factor contestant Craig Colton's much-praised performance of the song, while the ITV competition's reigning champion Matt Cardle finishes at six with his Gary Barlow-penned first single proper 'Run For Your Life'.
Charlene Soraia's cover of The Calling's 'Wherever You Will Go' boosts a massive 13 places to seven following its use in a popular TV advert, former number one Sak Noel crashes five to eight with 'Loca People' and Ed Sheeran's 'The A Team' – which was also covered on last week's X Factor – rises to nine from 13.
The Top 10 in full:
1. (1) Rihanna ft. Calvin Harris: 'We Found Love'
2. (2) Maroon 5 ft. Christina Aguilera: 'Moves Like Jagger'
3. (-) Gym Class Heroes ft. Adam Levine: 'Stereo Hearts'
4. (12) Christina Perri: 'Jar Of Hearts'
5. (7) LMFAO: 'Sexy And I Know It'
6. (-) Matt Cardle: 'Run For Your Life'
7. (20) Charlene Soraia: 'Wherever You Will Go'
8. (3) Sak Noel: 'Loca People'
9. (13) Ed Sheeran: 'The A Team'
10. (4) One Direction: 'What Makes You Beautiful'
One Direction's 'What Makes You Beautiful', 'Iris' by the Goo Goo Dolls and Dappy's 'No Regrets' fall six apiece to take spots ten to 12, kicking off a top 20 where 'Feels So Close' by Calvin Harris, up one place to 17, is the sole climber amongst a mass of falling entries.
The biggest losses are collected by James Morrison's 'I Won't Let You Go' and 'Lighters' by Bad Meets Evil and Bruno Mars, which crash seven and ten respectively to 15 and 20.
Finally, Nicki Minaj re-enters the Top 40 at 21 with 'Super Bass' off the back of a rendition by X Factor girlband Rhythmix, and Pixie Lott slides out of the bestsellers with 'All About Tonight' after tumbling eight to 22.
Source: Official Charts Company