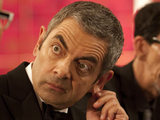 Rowan Atkinson's Johnny English Reborn has held off competition from The Lion King 3D to top the UK box office.
The spoof espionage sequel opens with an impressive £4.9 million to overpower Disney's re-release of its 1994 musical hit, which grossed £2.7 million.
Johnny English debuted with £3.4 million in 2003. The comedy went on to take £19 million in the UK and $129 million worldwide on its modest £35 million budget.
Elsewhere, Tinker Tailor Soldier Spy slips two places after occupying the number one spot for three weeks and Taylor Lautner's Abduction falls to three.
New releases Don't Be Afraid of the Dark and Midnight in Paris enter at numbers five and six respectively.
The UK box office top ten in full:
1. (-) Johnny English Reborn – £4,965,000
2. (-) The Lion King 3D – £2,746,763
3. (1) Tinker Tailor Soldier Spy – £1,066,742
4. (2) Abduction – £512,630
5. (-) Don't Be Afraid of the Dark – £495,734
6. (-) Midnight in Paris – £495,709
7. (4) Crazy, Stupid, Love – £367,723
8. (8) Drive – £304,163
9. (7) The Inbetweeners – £285,264
10. (5) The Debt – £278,060