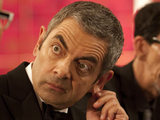 Johnny English Reborn has topped the UK box office for the second consecutive weekend.
Despite big new releases in the form of The Three Musketeers 3D and Hugh Jackman's Real Steel, both Rowan Atkinson's spy spoof and the re-release of The Lion King hold onto the top two spots.
Tinker Tailor Soldier Spy rounds out the top five, while the remake of '80s classic Footloose trails behind at number six.
Family movie Dolphin Tale lands at number seven ahead of Woody Allen's latest comedy Midnight in Paris.
Elsewhere, Taylor Lautner's Abduction plummets sharply from last week's fourth spot to chart outside the top ten.
The UK box office top ten in full:
1. (1) Johnny English Reborn – £3,072,542
2. (2) The Lion King 3D – £1,906,686
3. (-) The Three Musketeers 3D – £1,461,251
4. (-) Real Steel – £1,337,491
5. (3) Tinker Tailor Soldier Spy – £572,806
6. (-) Footloose – £460,271
7. (-) Dolphin Tale – £429,140
8. (6) Midnight in Paris – £396,584
9. (5) Don't Be Afraid of the Dark – £250,542
10. (8) Drive – £178,230