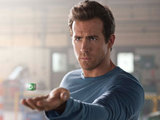 Green Lantern has topped the UK box office on its first weekend on release.
The 3D superhero epic, starring Ryan Reynolds and Blake Lively, takes in £2.4 million to edge past family movie Kung Fu Panda 2 and claim the number one spot.
Green Lantern's opening falls significantly short of the Kung Fu Panda sequel's £6 million bow and the £11 million debut for the latest Pirates of the Caribbean movie. Fellow comic book adaptation X-Men: First Class took in more than £5 million on its first weekend earlier this month, despite not having the benefit of a box office boost from the price of 3D tickets.
Cameron Diaz and Justin Timberlake comedy Bad Teacher charts at number three, while The Hangover Part II and X-Men round out the top five.
Elsewhere, Catherine Deneuve and Gérard Depardieu's French comedy Potiche debuts at number nine with just over £200,000.
Kevin Macdonald's YouTube-sourced documentary Life in a Day and Mel Gibson's The Beaver both fail to make a dent in the top ten.

The UK box office top ten in full:
1. (-) Green Lantern – £2,472,969
2. (1) Kung Fu Panda 2 – £2,277,474
3. (-) Bad Teacher – £1,958,656
4. (2) The Hangover Part II – £1,504,318
5. (3) X-Men: First Class – £1,219,141
6. (4) Pirates of the Caribbean: On Stranger Tides – £917,188
7. (7) Senna – £376,286
8. (6) Diary of a Wimpy Kid: Rodrick Rules – £227,995
9. (-) Potiche – £201,588
10. (5) Honey 2 – £176,140